General
Welcome to Physics 20!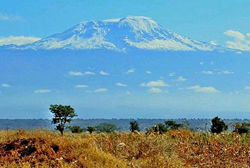 The learning model used in Physics 20 is designed to be engaging and to have you participate in inquiry and problem solving. You will actively interpret and critically reflect on your learning process. Learning begins within a community setting at the centre of a larger process of teaching and learning. You will be encouraged to share your knowledge and experiences by interaction, feedback, debate, and negotiation.
Your grades will come from self checks, projects, unit tests, midterm & final. You have to hand in projects.
So what does the magnificent Mount Kilimanjaro towering over the Serengeti plains have to do with Physics? You'll see as you progress through this course!
You will use the link for the Physics 20 Full Course NEW to access all your lessons.